Global Outreach Mission is rebranding its corporate image to MissionGO. Our purpose and strategy is to be fully prepared and best positioned for the future as we serve our Lord and Savior in missions around the world. Thank you for your prayers and for joining with us as we move forward in carrying our ministry into the future.
Click to return to Global Outreach Mission
Canada's National Bible Hour

(Times and Days may change – please contact Radio Station for more details)
If you click a title below, you can play the program immediately, or you can click the download button and download the mp3 for listening later!
Canada's National Bible Hour is also on iTunes! Just look for
Feb 23, 2020

Rev. Art Larson – Jonah

Feb 16, 2020

Rev. George Francisco – Paul

Feb 9, 2020

Dr. Fred Hartman – Messianic Prophecies #1

Feb 2, 2020

Hon. EC Manning – 10 Commandments #2

Jan 26, 2020

Rev. Art Larson – The Best is Yet to Come

Jan 19, 2020

Rev. George Francisco – Comparing the Rapture with Christ's Return

Jan 12, 2020

Dr. Fred Hartman – Lamentations – Is It Nothing to You?

Jan 5, 2020

Hon. EC Manning – 10 Commandments #1

Dec 29, 2019

Rev. Art Larson – God's Guidelines for Joyful Living

Dec 22, 2019

Special Christmas Message – Honourable Ernest C. Manning

Dec 15, 2019

Rev George Francisco – Christmas Message

Dec 8, 2019

Dr. Fred Hartman – Three Jewish Men Who Changed the World

Our Vision
"So faith comes from hearing, and hearing by the word of Christ."
Romans 10:17
Our vision is to make disciples for Christ through the means of radio,
Bible correspondence courses, literature, cassettes and counseling.
Contact Us:
La Voix de l'Évangile
P.O. Box 125
Chateauguay, QC
J6J 4Z5
CANADA
Tel: (450) 699-7308
e-mail: Lve@bellnet.ca
Station

Time

CFLM – La Tuque, QC




1240 AM

9:00 AM

CKLD – Thetford-Mines, QC




105.5 FM

8:45 AM

CJLP – Disraeli, QC




107.1 FM

8:45 AM

CKMN – Rimouski, QC




96.5 FM

8:15 AM

CITA – Moncton, NB




105.9 FM

3:30 PM

CITA – Amherst, NB




99.1 FM

3:30 PM

CITA – Sussex, NB




107.3 FM

3:30 PM

CKZW – Montréal, QC




1650 AM

Fridays at 11:00 pm and




Saturdays at 11:00 am
As well as Monday at 3:00 PM
WCHP – Champlain, NY 760 AM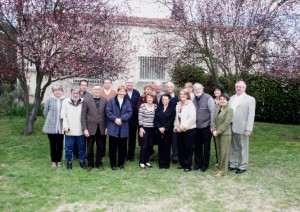 The announcement of the good news of Jesus Christ through the airwaves,
correspondence Bible courses and the printed page.
The voice of the Gospel is a missionary work of evangelizing through the radio, the correspondence Bible courses and by the printed page in the French-speaking world. It exists as a 1901 Association and has been at the service of churches for more than 50 years. Its offices and studio are located in Bouc Bel Air, between Marseille and Aix-en-Provence.
The voice of the Gospel is a missionary work of evangelizing through the Radio,

correspondence Bible course and by the printed page.
The Association was founded by "Back to the Bible Broadcast" in 1956. It exists as a1901 Association and since 1980 has been part of Global Outreach Mission. As early as 1956 our programs have been aired in Africa, South America, the Caribbean, and Haiti. In 1958 we began on Radio Luxembourg, and Europe 1. For many years, Eugène Boyer was our single speaker, and then in 1974, Alain Choiquier took over. Since then, Jacques Lauzet, Jack Mouyon and Yves Perrier have recorded messages in our studio. Today, our presenter is Daniel Corones with Frédéric Travier, two French Evangelists.
Our studio is well equipped for recording and duplicating cassettes and CDs.
Today we have approximately 35 stations overseas and 20 stations in France. These figures are continually modified because of the constraints of the new rules of the governmental commission of the country that decides to add such station, or remove them.
Our Bible correspondence courses are enjoyed by many people in the French-speaking world. We are in contact with about 1,200 people who are enrolled in our courses.
Our on-site staff corrects the Bible courses, responds to personal letters and questions about biblical topics and receives prayer requests.
Our program is aired all over Metropolitan France, Guadeloupe, Guyana, Martinique, Burkino-Faso, Rwanda-Kigali, Central African Republic, Republic of the Congo, Gabon-Libreville, Mali – Bamako, Chad – Pala, Chad – N'Djamena, Togo – Lome, Congo – Brazzaville, North America, Haiti and Madagascar!
AHOBAN Radio
Evangelism is at the heart of everything MissionGO does.
The heartbeat of this organization is all about being a VOICE OF THE GOSPEL. AHOBAN Broadcast is so much more than a radio program. At the center of our ministry to the impoverished people of Bangladesh and West Bengal, India, AHOBAN is a daily broadcast following the morning news! Each morning the Gospel is preached to people gathered around radios in the most unlikely places.
Listeners write in – enroll in correspondence courses – accept Christ – and some of them have gone on to become pastors and evangelists and are now a voice of the Gospel in their own communities. The results are amazing!
St. Catharines, ON L2R 7A7

Email: media@missiongo.org
Copyright ©2016 missiongo-radio. All rights Reserved.