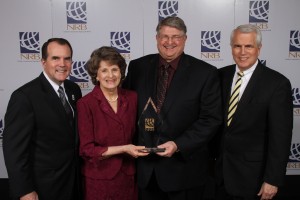 The following is a Press Release from the NRB
Manassas, VA– Global Outreach Mission will receive the prestigious NRB Milestone Award during the Awards Dinner on Tuesday, March 5, at the NRB 2013 Convention & Exposition.
The NRB Milestone Award is presented each year at the annual NRB Convention to pioneers in Christian communications who have demonstrated exemplary service in the industry for five decades or more. This year, Global Outreach Mission marks its 70th anniversary.
"Global Outreach Mission is a missionary sending organization that holds firm to the belief that the mission field of every Christian is the world," expressed NRB President & CEO Dr. Frank Wright. "And for more than seven decades, the ministry has faithfully committed itself to evangelizing, planting local churches, and developing national leadership. I applaud them for their far-reaching efforts."
Since 1943, Global Outreach Mission has been revealing Christ to the world. In more than 50 countries, they minister to spiritual and physical needs through church planting, medical care, training for pastors and Christian leaders, community development, education, orphanages, clean water projects and evangelistic radio.
Their radio programs reach around the globe. La Voix de l'Evangile (The Voice of the Gospel) reaches the French-speaking world, including Europe, North Africa and the Caribbean. La Voix de l'Evangile (The Voice of the Gospel) also reaches across the Province of Quebec, Canada. AHOBAN reaches West Bengal, India, and Bangladesh. Canada's National Bible Hour, sponsored by Global Outreach Mission since 1990, reaches across Canada.
About NRB The National Religious Broadcasters (NRB) is a non-partisan, international association of Christian communicators whose member organizations represent millions of listeners, viewers, and readers. Our mission is to advance biblical truth; to promote media excellence; and to defend free speech. In addition to promoting standards of excellence, integrity, and accountability, NRB provides networking, educational, ministry, and fellowship opportunities for its members. Learn more at www.nrb.org.