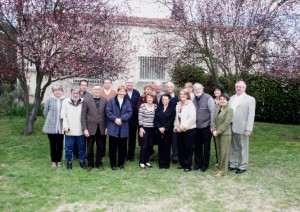 The announcement of the good news of Jesus Christ through the airwaves,
correspondence Bible courses and the printed page.
The voice of the Gospel is a missionary work of evangelizing through the radio, the correspondence Bible courses and by the printed page in the French-speaking world. It exists as a 1901 Association and has been at the service of churches for more than 50 years. Its offices and studio are located in Bouc Bel Air, between Marseille and Aix-en-Provence.
The voice of the Gospel is a missionary work of evangelizing through the Radio,

correspondence Bible course and by the printed page.
The Association was founded by "Back to the Bible Broadcast" in 1956. It exists as a1901 Association and since 1980 has been part of Global Outreach Mission. As early as 1956 our programs have been aired in Africa, South America, the Caribbean, and Haiti. In 1958 we began on Radio Luxembourg, and Europe 1. For many years, Eugène Boyer was our single speaker, and then in 1974, Alain Choiquier took over. Since then, Jacques Lauzet, Jack Mouyon and Yves Perrier have recorded messages in our studio. Today, our presenter is Daniel Corones with Frédéric Travier, two French Evangelists.
Our studio is well equipped for recording and duplicating cassettes and CDs.
Today we have approximately 35 stations overseas and 20 stations in France. These figures are continually modified because of the constraints of the new rules of the governmental commission of the country that decides to add such station, or remove them.
Our Bible correspondence courses are enjoyed by many people in the French-speaking world. We are in contact with about 1,200 people who are enrolled in our courses.
Our on-site staff corrects the Bible courses, responds to personal letters and questions about biblical topics and receives prayer requests.
Our program is aired all over Metropolitan France, Guadeloupe, Guyana, Martinique, Burkino-Faso, Rwanda-Kigali, Central African Republic, Republic of the Congo, Gabon-Libreville, Mali – Bamako, Chad – Pala, Chad – N'Djamena, Togo – Lome, Congo – Brazzaville, North America, Haiti and Madagascar!